Mesh Shopping Bags
Regular price
Sale price
$9.99
Unit price
per
Sale
Sold out
Below is pricing information based on the quantities:

| | | |
| --- | --- | --- |
| Tote Bags  | Up to 100 pieces | $5.75 |
|   | 150 to 250 pieces | $5.5 |
|   | 300 to 500 pieces  | $5.25 |
|   | 550 to 1000 pieces | $4.75 |
| | 1000 to 1500 pieces | $4.25 |
| | 1500+ pieces | $3.49 |
Note: Our wholesalers are not allowed to sell on Amazon (US) and Amazon (Canada). Amazon(US) and Amazon (Canada) is a restricted property for Organic Cotton Mart wholesalers.
WANT MORE QUANTITY?

Enter your details below and someone will reach out to you with pricing.
Share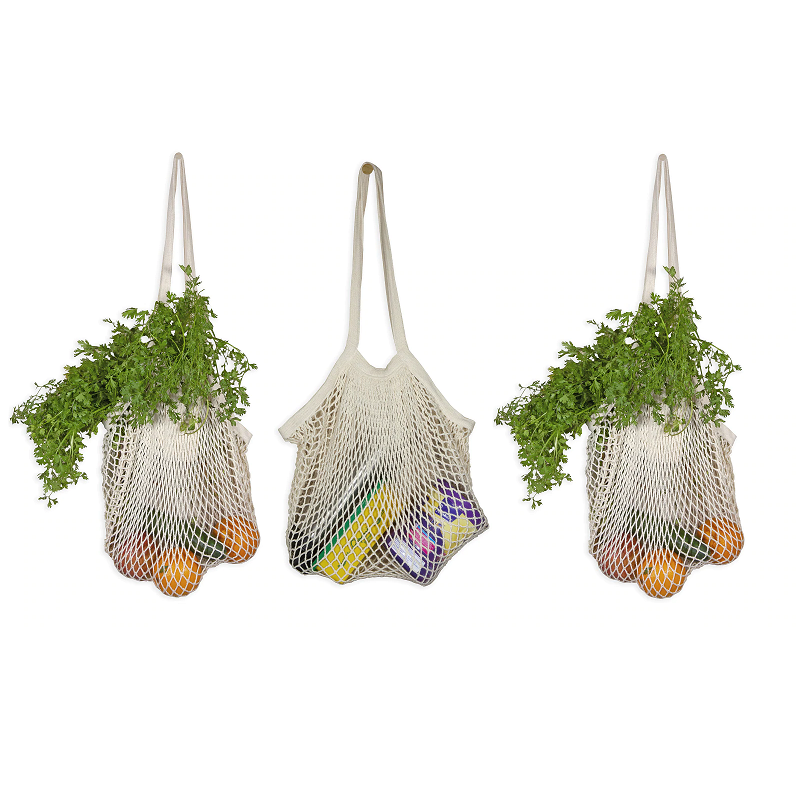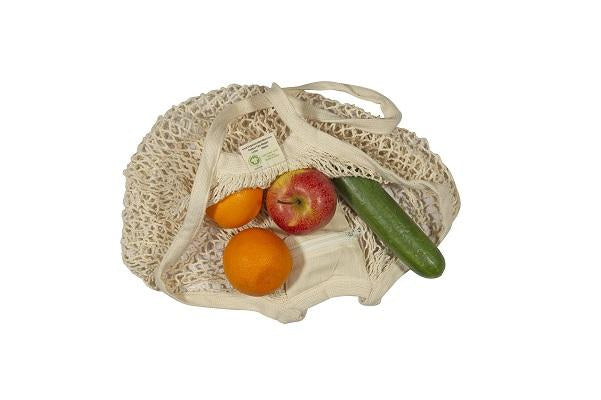 Make a move toward sustainable shopping with Organic Cotton Mart's wholesale string mesh tote bags. These bags are made from the finest materials and can hold up against the heaviest grocery loads. Our products are designed with your customers in mind and offer a green solution at a price ideal for wholesale purchases.
Every wholesale French market bag is made with 100% certified cotton and comes with years of guaranteed reusability. These bags are great for bringing to the Farmer's Market or the grocer and can also be used to store produce in the home. Our wholesale cotton mesh tote bags are easy to care for. Simply wash them in cold water and hang to dry. It really is that simple! From carrying fresh food home to packing a lunch for a day out, these reusable mesh bags are a great addition to any active, green lifestyle.
Our customers love our reusable shopping bags, and Organic Cotton Mart products are an ideal addition for eco-conscious retailers.
Single-use plastics can take over 500 years to decompose in landfills, and plastic too often winds up in waterways and our oceans. The need to transition to sustainable shopping methods is crucial for our environment. Plastic pollution directly threatens ecosystems and the animals living within them, and we are all responsible for taking steps to reduce our own environmental footprint. Approximately 380 billion plastic bags and wraps are used each year in the USA alone. By investing in wholesale cotton mesh tote bags, you can take an important step to encourage greener shopping options around the world.
The market for reusable products continues to grow as customers and suppliers better understand the impacts of plastic pollution on the environment. Many grocers and stores have begun implementing plastic bag bans or charging for each plastic bag used by a customer. Single-use plastics are on their way out – reusable is in. You can keep up with the movement by investing in our wholesale cotton mesh tote bags. We carry an entire line of eco-friendly wholesale French market bags that make going green easy and affordable. We offer the highest quality wholesale cotton mesh tote bags at a competitive price.
Our bags are high quality, durable, and affordable with discounts and bundle deals readily available for all your wholesale purchasing needs. These 100% certified wholesale cotton mesh tote bags are lightweight while boasting extra strength weaves to support heavier items. Each bag is versatile and guaranteed to hold up a shopping trip after a shopping trip.
An investment in Organic Cotton Mart wholesale string mesh tote bags is an investment in the environment. We guarantee these 100% certified cotton bags will be a crowd-pleaser. Providing customers with green options is a direct way storefronts can promote environmentally friendly shopping habits and work toward reducing our global environmental footprint. Contact us today so you can provide your customers with a practical, affordable shopping bag option.
Why choose us?
Sustainable Products

Products build to last long with multiple usability lifecycle

Low Minimum Quantity

Get wholesale rates without having to order large quantities

Fast Shipping

Most of our orders are fulfilled within 1-2 business days