Cheesecloth
Regular price
Sale price
$9.99
Unit price
per
Sale
Sold out
Below is the price per piece based on the quantities:

| | | |
| --- | --- | --- |
| Organic Cotton Cheesecloth | Up to 100 pieces | $3.49  |
|   | 150 to 250 pieces | $3.15  |
|   | 300 to 500 pieces  | $2.99  |
|   | 550 to 1000 pieces | $2.49  |
Note: Our wholesalers are not allowed to sell on Amazon (US) and Amazon (Canada). Amazon(US) and Amazon (Canada) is a restricted property for Organic Cotton Mart wholesalers.
WANT MORE QUANTITY?

Enter your details below and someone will reach out to you with pricing.
Share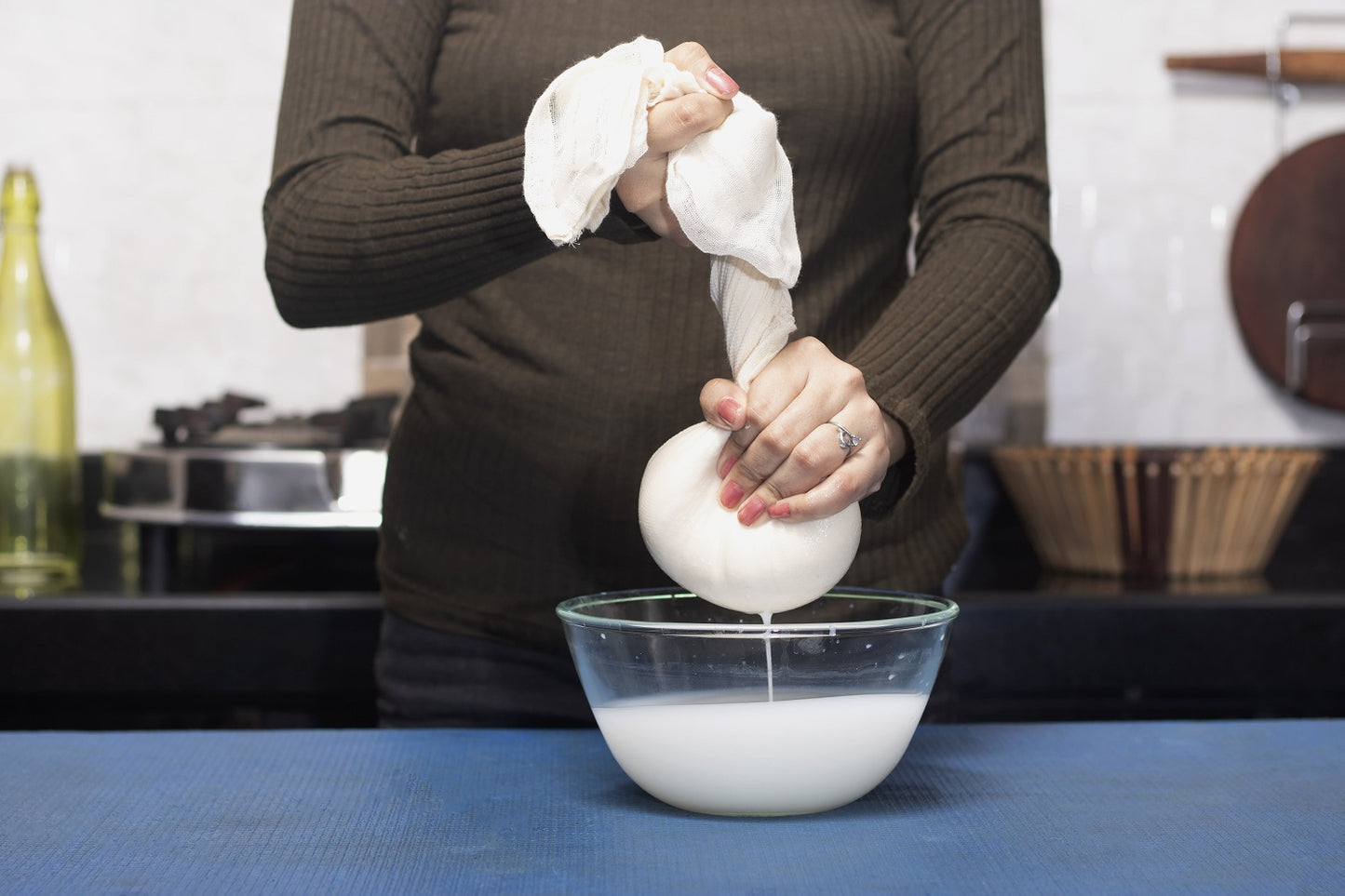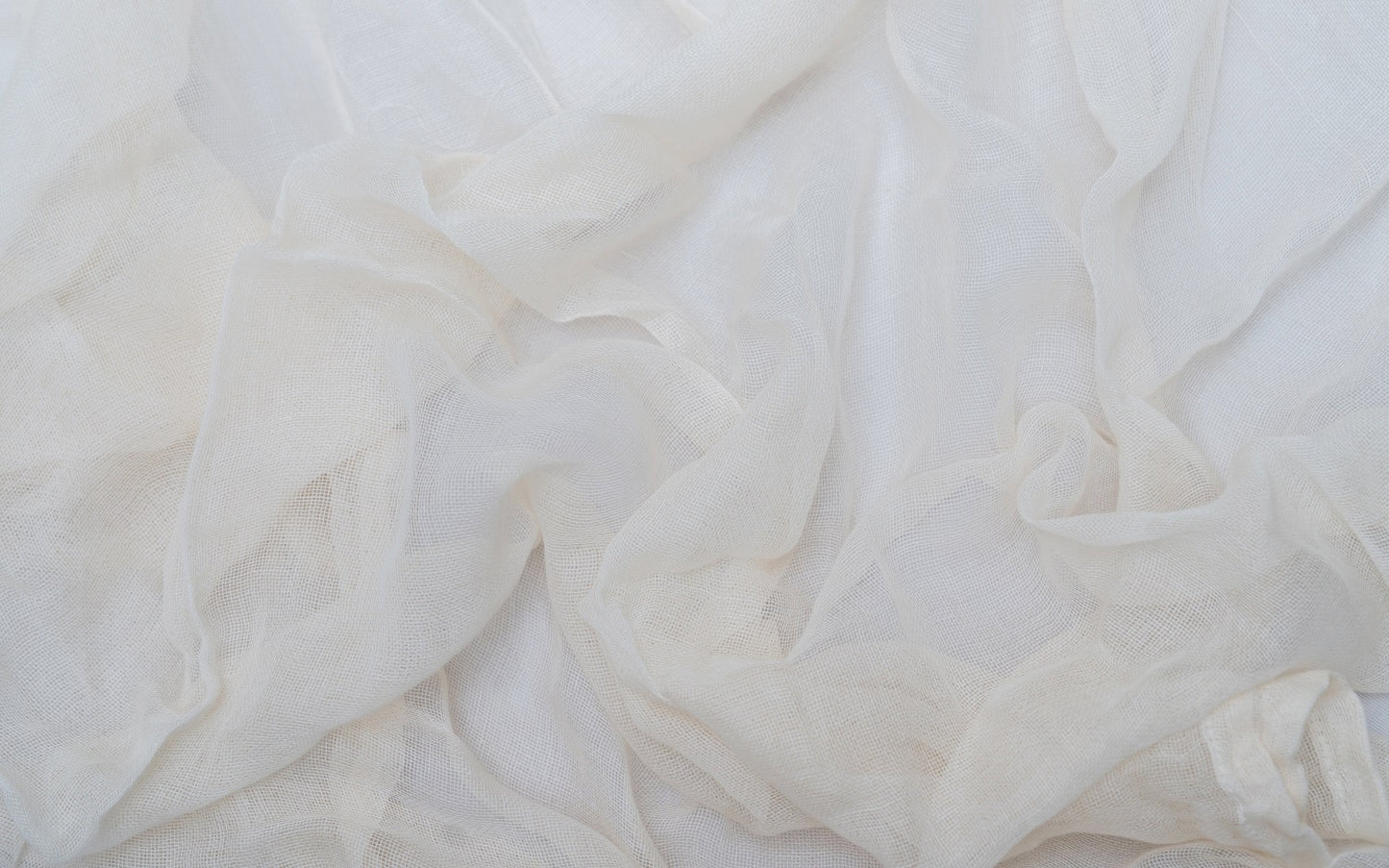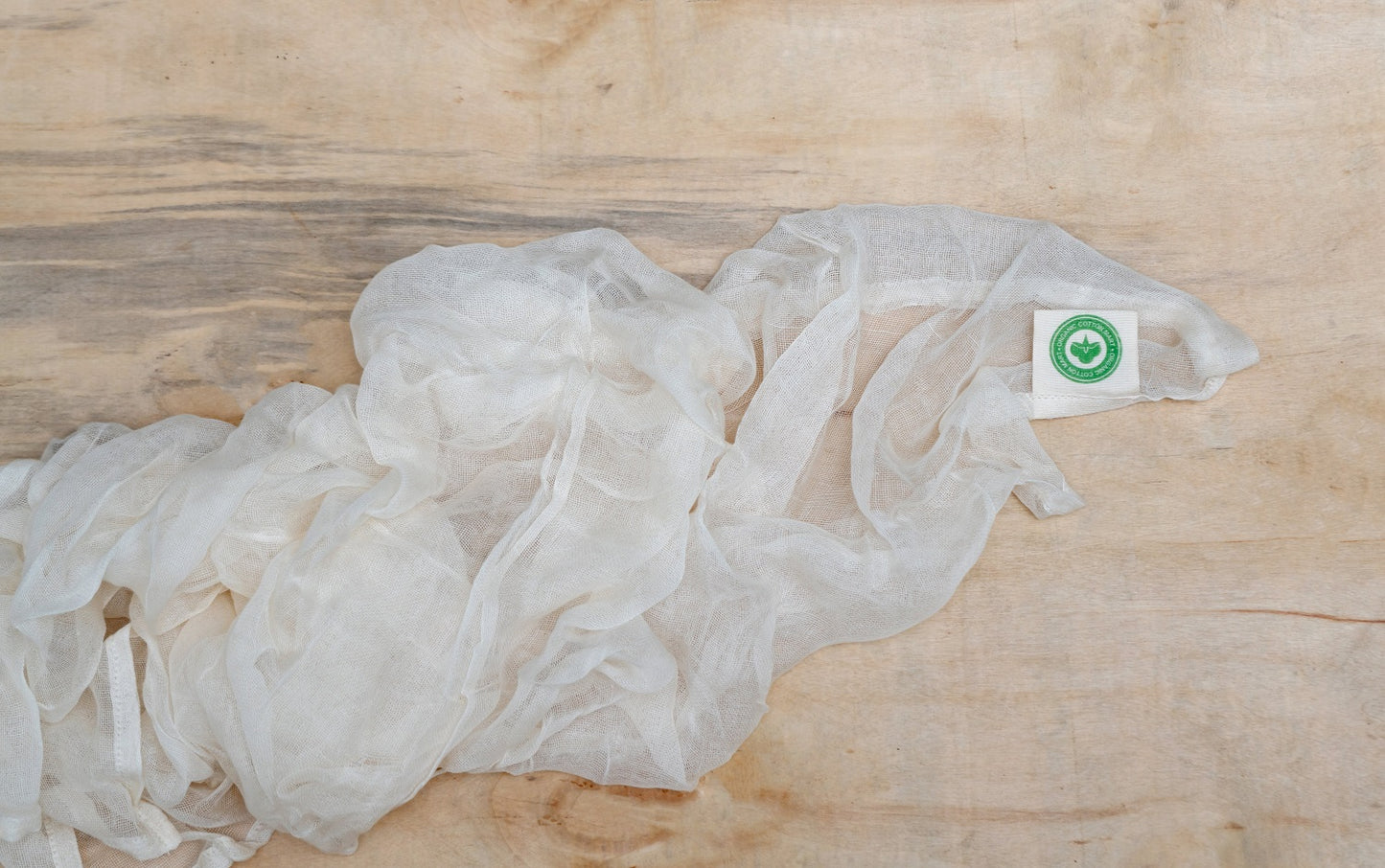 Bulk Cheesecloth
Cheesecloth is an essential part of cheesemaking, but there's so much more to this thin and gauzy cloth than just that. Its wide-ranging uses cover cooking, cleaning, and everything in between. Although washable and reusable, you obviously wouldn't want to use your cleaning cheesecloth for cooking or straining. It's a good idea to buy bulk cheesecloth and use separate rolls for different tasks. And for those yet to experience the joys of owning a cheesecloth, here's a complete rundown on this highly functional cloth and why you should add it to your shopping list, pronto!
All About Grades - Why You Should Buy Grade #90
In the case of cheesecloth, its grade will give you an idea of the number of threads per square inch. For example, the loosely woven grades #10 and #40 score in breathability and dry fairly quickly, making them great for polishing, wiping, and straining. Meanwhile, grades #50 and #60 are excellent for cooking, straining, crafting, and creating DIY decor. 
If cheesemaking is on your mind, we recommend opting for our finely woven and sturdy Grade #90 cheesecloth roll with 44 x 36 threads per inch. This is by far the most versatile and durable type of cheesecloth that can nail any task with effortless ease, be it cleaning or cooking. 
What to Look for When Shopping for Bulk Cheesecloth
Cheesecloth is a light, thin cloth typically made from 100% cotton. You can go for an extra fine or loosely woven variety, depending on what you want it for. For cheesemaking, a tightly woven texture works brilliantly in draining the whey from cheese curds and holding on to the solids. Whether you're shopping for a single or multiple cheesecloth roll, the following tips will help you make an informed decision.
Reusable and Washable: A sign of good quality cheesecloth is high reusability. It should be able to hold up well even after repeated washes. Our premium-grade cheesecloth can stand rigorous daily use and is incredibly easy to clean and maintain. 
Sustainable and Safe: If food safety is on your mind, we recommend buying organic cotton cheesecloth made to put all your worries to rest. That's why we only use 100% certified organic and unbleached cotton for our cheesecloth. Our non-toxic and well-made cheesecloth doesn't leave behind lint or fibers or alter the taste of your food.
Durable: Higher the grade of cheesecloth, the sturdier it'll be. The more threads per inch make for robust and hardy construction. With high-grade cloth, you get not only durability but also versatility. Then all left for you is to bag a deal in terms of prices. We've got you covered in that department!
Versatile and Eco-Friendly Cheesecloth: A True Workhorse
There's a reason cheesecloth has been hailed as a handy kitchen tool for as long as one can remember. It's functional and multi-purpose and can help you carry out a variety of tasks inside as well as outside of your living space.
Cheesemaking

Not just cheese, this dependable kitchen accessory can help you make a fresh batch of tofu and a host of plant-based creations. The thin and ultra-fine mesh-like construction of a high-grade cheesecloth is ideal for separating liquids from solid bits in a curdling mixture.

Straining

Whether you're a professional chef or a home cook, this is one tool you must have with you at all times. You can whisk up hundreds of culinary delights using cheesecloth as a filter or a strainer - soups, sauces, broths, yogurts, coffee, nut milk - the list is endless!

Cleaning and Polishing

A regular dishcloth might not deliver the dazzling shine to your silverware as cheesecloth. The soft and non-abrasive cloth doesn't leave lint behind and can be used for dusting, wiping utensils, and cleaning delicate decor items like sculptures and figurines.

Crafting

Do you know you can turn your roll of gauzy cheesecloth into scary Halloween decor and costumes? Think cobwebs, spooky ghosts, and mummies! 

Gardening

Come winter, and the frost will get to your favorite plants, making them wilt and wither. Or you can do the smart thing and cover them with sheets of cheesecloth. The airy texture protects them from frost while allowing an ample flow of sunshine. In the summers, the same cheesecloth cover will block the harsh sunlight while keeping the air moist around the foliage.

  Bundling Herbs

An excellent way to store and use aromatic herbs is to turn them into "Bouquet Garni" - a tried and testing trick to infuse rich flavors in your recipes. Take tiny batches of fresh or dried herbs, wrap them in small pieces of cheesecloth, and secure them with a string. Keep these sachets in your arsenal to make lip-smacking soups, stews, and casseroles.
How Businesses Benefit from Bulk Cheesecloth
Seafood and Meat Packaging

A Cheesecloth wrap works wonders to enhance the shelf life of fish fillets and cuts of meat. The soft, thin, mesh-like cloth filters out excess moisture and keeps meat fresh with all its juices intact. If you're in a seafood or meat delivery business, consider buying bulk cheesecloth and using it to enhance the packaging and woo your clients.

Restaurant Food Service 

Chefs and bakers around the globe heavily rely on cheesecloth for their day-to-day operations. From cleaning utensils to straining stocks to dusting baked goodies with powdered sugar, the versatility of cheesecloth knows no bounds.

First Aid Application

Everyone should have a first aid kit handy at home or work. The higher grades of cheesecloth (preferably grade 90) can be used as a bandage or a pain-relieving wrap for sore muscles. The texture is uncannily similar to medical gauze, and buying bulk will keep the costs in check.

Polishing and Faux-Finishing

Not just silverware. Cheesecloth can remove stubborn stains and add shine to furniture, automobiles, or vintage decor items. Professional painters depend on cheesecloth to add texture to faux-finishing projects. They dip the cloth in paint and dab it across the wall to produce the look and feel of various surfaces such as wood, stone, paper, and fabric, to name a few. 
Buy as Little as 25 to Avail Wholesale Prices
Organic Cotton Mart's Grade #90 cheesecloth is lint-free, unbleached, and will get you results, no matter the task you set it up for. We offer our cheesecloth in sheets of 36 x 36 inches - cut as much as you need and save the rest for later. The best part? You don't have to place a huge order to take advantage of our wholesale prices. Even a small order of 25 sheets will get you a wallet-pleasing deal. Plus, we'll have it shipped across to you within two working days.
Why choose us?
Sustainable Products

Products build to last long with multiple usability lifecycle

Low Minimum Quantity

Get wholesale rates without having to order large quantities

Fast Shipping

Most of our orders are fulfilled within 1-2 business days