Canvas Grocery Tote Bags with Compartments
Regular price
Sale price
$14.99
Unit price
per
Sale
Sold out
Note: Our wholesalers are not allowed to sell on Amazon (US) and Amazon (Canada). Amazon(US) and Amazon (Canada) is a restricted property for Organic Cotton Mart wholesalers.
WANT MORE QUANTITY?

Enter your details below and someone will reach out to you with pricing.
Share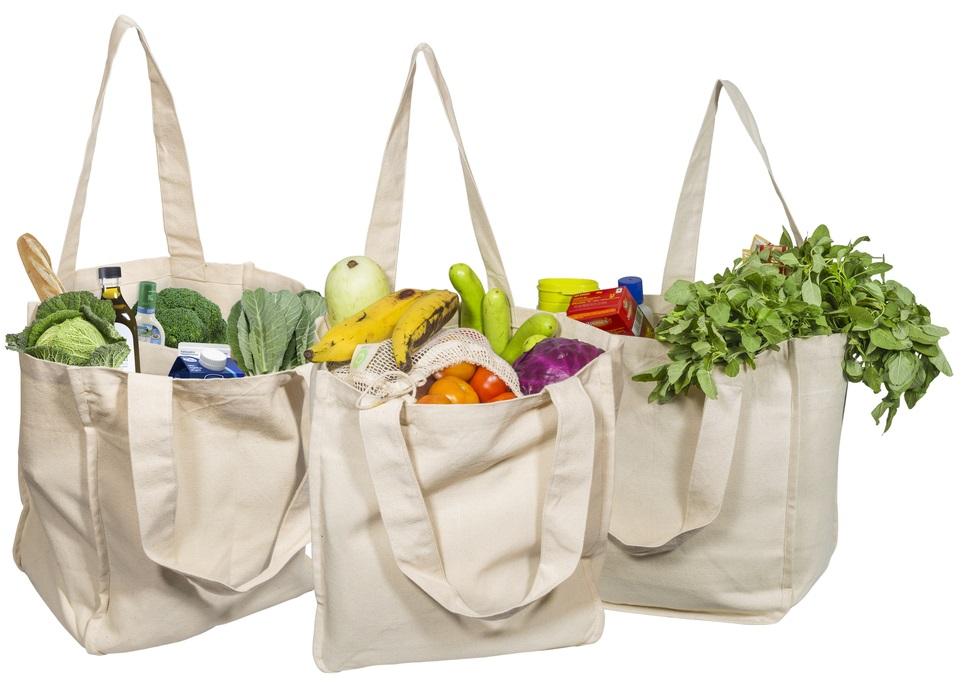 Wholesale Cotton Grocery Tote Bags with Compartments
Out with plastic and in with reusables! Our wholesale canvas grocery bags are a must-have for any eco-conscious supplier and shopper. Each bag is 100% certified cotton and washable, coming with years of reusability. We offer competitive pricing, and there is always a great deal on wholesale cotton grocery totes for companies looking to buy in bulk.
Single-use plastics can take over 500 years to decompose in landfills. When they're not wasting away in landfills, plastic bags often are blown into waterways and end up in the ocean. While light and flimsy, plastic bags wreak havoc on marine life. Our oceans and waterways are polluted with single-use plastics, and each pollutant poses a serious threat to the ecosystem and its inhabitants. The USA alone goes through nearly 380 billion single-use plastic bags and wraps each year, and only a small fraction of the total number of plastic bags used are recycled. Plastic pollution is a serious global issue that both sellers and consumers can play an active role in alleviating—and the solution is as easy as switching to wholesale cotton grocery totes.
Plastic pollution is a global issue with harrowing consequences for the environment. As consumers become more aware of the damage plastic waste has on the environment, they begin to understand the weight their consumption choices carry and start to make greener shopping choices. For stores, this presents a great opportunity to market reusables and provide shoppers with high-quality grocery bags. Our wholesale cotton grocery totes are an ideal eco-friendly solution for customers and are a great addition to any environmentally conscious store.
As grocers begin to take active roles in reducing plastic waste by no longer providing plastic bags or charging small fees, shoppers are becoming more and more invested in reusables. Our wholesale cotton grocery totes are an ideal shopping companion for the eco-conscious shopper. These bags are designed with shoppers in mind and come with years of reusability. Our wholesale canvas grocery bags are a simple and affordable way to reduce one's environmental footprint.
Our wholesale canvas grocery bags are affordable, eco-friendly, and stylish. The smart design of all our reusable bags allows for a multipurpose bag perfect for anyone on the go. Not only do they make an ideal grocery bag, but our reusable bags can be used for just about anything and are great for those looking to get more out of their reusable bags. Our wholesale cotton grocery tote is sturdy and comfortable to carry with extra-wide handles designed to support the heaviest grocery loads. Each bag comes with interior bottle sleeves to allow for easy organization. Each bag can fit and support a large load of groceries. When compared to plastic bags, our reusable totes can fit more and will result in fewer bags to carry home.
Organic Cotton Mart's canvas bags are 100% certified unbleached organic cotton. Our premium cotton canvas shopping bags are not only good for the environment, but they are also great for those who invest in them. Our wholesale canvas grocery bags are made with high-quality materials with wide handles to reduce tearing from heavy weight. No more struggling with ripping plastic and picking up scattered groceries!
Why choose us?
Sustainable Products

Products build to last long with multiple usability lifecycle

Low Minimum Quantity

Get wholesale rates without having to order large quantities

Fast Shipping

Most of our orders are fulfilled within 1-2 business days
Great products, sturdy and fast shipping
Best market bags!
These are strong, durable, wash up really well…hang dry…and hold our logo beautifully! The compartment areas work well to keep things separate. Highly recommend.
Organic Cotton Grocery Tote Bags with Compartments