Organic Cotton Swaddle Blanket
Regular price
Sale price
$9.99
Unit price
per
Sale
Sold out
100% Organic Cotton
Solid colors
47"x47"
Easy to customize including dying, sublimation etc
Note: Our wholesalers are not allowed to sell on Amazon (US) and Amazon (Canada). Amazon(US) and Amazon (Canada) is a restricted property for Organic Cotton Mart wholesalers.
WANT MORE QUANTITY?

Enter your details below and someone will reach out to you with pricing.
Share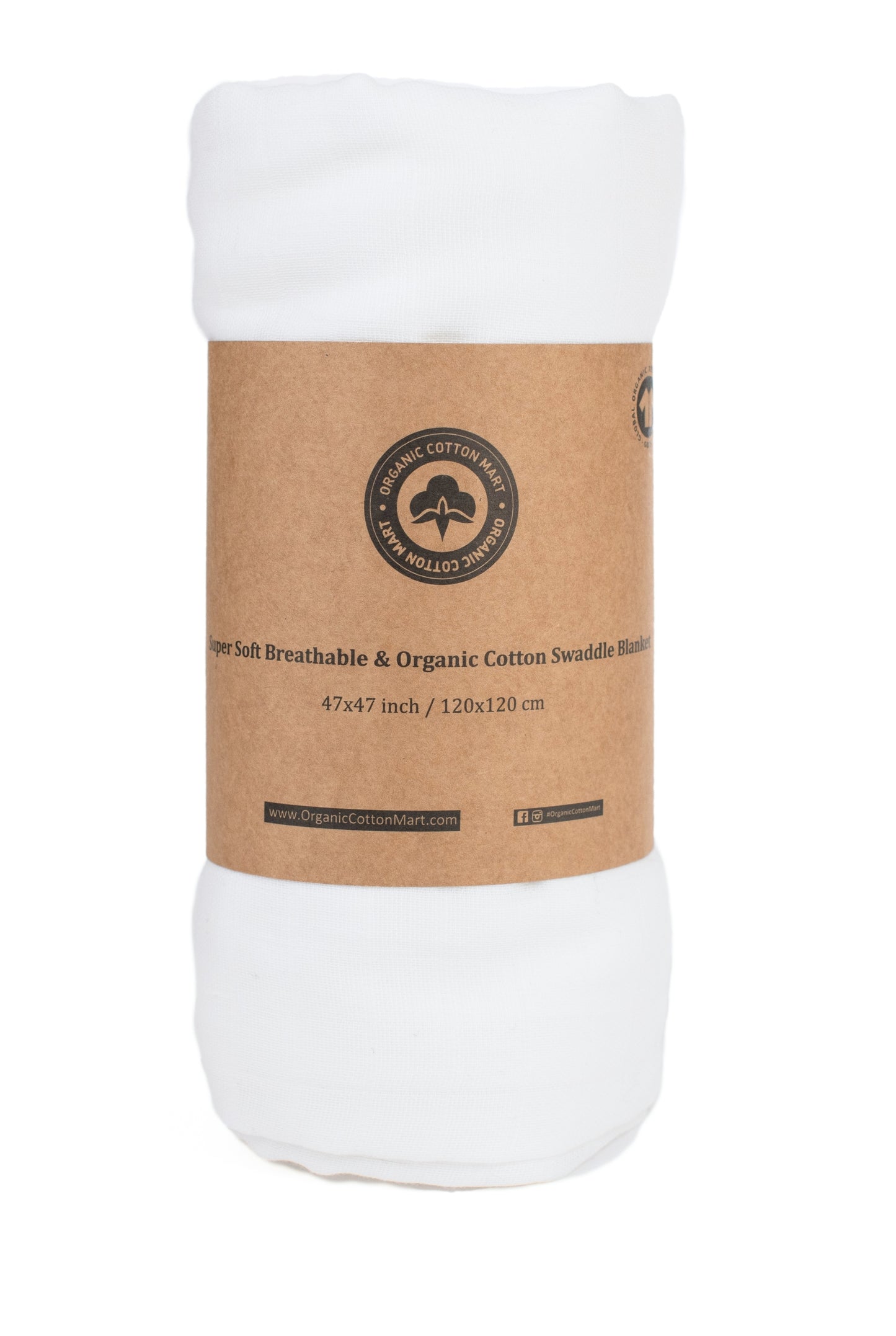 Quality Organic Cotton Swaddle Blankets
If your business is in the market for wholesale swaddle blankets, look no further than Organic Cotton Mart. Our wholesale cotton swaddles are 100% organic cotton and guaranteed to please your customers with luxurious softness. The generous size of these wholesale organic cotton swaddle blankets (47" x 47") makes them not only the perfect swaddling blankets but also ideal for nursing and stroller use. Our wholesale prices allow you to profit when looking to re-sell Organic Cotton Mart products. Along with a great pricepoint, our wholesale swaddle blankets ship the same day. Parents on the go are always looking for ways to reduce the amount of items shoved into their baby bag, and the versatile nature of these large blankets paired with high-quality organic cotton makes them extra appealing.
Introduction to Swaddle Blankets
Swaddling has been used as a parenting technique across cultures and over many centuries. Countless parents believe swaddling provides babies with feelings of security and comfort, reduces restlessness, and improves overall sleep. Investing in wholesale cotton swaddles has several benefits for new parents and babies alike. Whether you are a new parent looking for wholesale prices on organic cotton swaddles, or a retailer looking to provide this product for clients, we have the products and the information about swaddling you need to know.
Benefits of Swaddling
Swaddling helps your little one feel safe and secure and can also reduce restlessness. With wholesale organic cotton swaddle blankets, both parents and babies can be at ease. Swaddling keeps babies comfortably wrapped up in a soft blanket, reducing the amount of movement and leading to deeper sleep. A newborn's startle reflex can disturb otherwise peaceful slumbers and limit sleep for both baby and parent. While wrapped up in a snug wholesale cotton swaddle, babies experience a sensation similar to the comfort of their mother's womb, and the coziness of soft cotton can calm over-stimulated little ones. Swaddling is also believed to mimic being firmly held, leading to less crying and more sleeping.
Tips for Safe Swaddling
There are many benefits to swaddling for both newborns and parents alike, but getting your little one wrapped up just right is the key to better sleep. Experts suggest swaddling babies from birth rather than introducing it later on in the baby's early stages. Sudden Infant Death Syndrome (SIDS) is among the greatest of fears held by any parent raising a newborn. At two to three months, babies are the most vulnerable, and this stage is not suitable for introducing swaddling. Co-sleeping babies are also not great candidates for swaddling as they may overheat beneath their parent's blanket or become constricted.
When swaddling your baby, be sure you do not wrap them up too tightly. While parents should aim for a snug fit, wrapping a newborn up too tightly could result in hip problems down the road. Be sure your baby has enough space to move their legs and feet and bend their legs at the hips. This will assist in healthy development for your little one. When it is time for bed, be sure your baby is placed on their back and never on their front. Take care to monitor restless babes to make sure they stay on their back while asleep as sleeping on their belly can put a baby at risk.
Swaddling your little one can take time to perfect, but once parents learn the ins and outs of swaddling, it becomes second nature at bedtime. The first step is stocking up on thin, high-quality wholesale organic cotton blankets. Always leave a baby's head and neck uncovered. Once bundled up, lay your little one on their back. If you notice your baby trying to roll on to their side or back, remove the swaddle. Consistency is key, so you want to be sure you swaddle your baby throughout the day and night to help them become accustomed to cotton swaddles. Always be sure the swaddle blanket is not wrapped too tightly and check in on the baby's temperature while they are resting to avoid over-heating. Swaddling is meant to provide your little one with comfort and security, not to keep them warm.
Swaddling Step by Step
Grab one of your wholesale organic cotton swaddle blankets and lay on a flat surface with one of the top corners folded over roughly six inches.
Lie your little one down on their back with their neck resting against the fold made in the first step.
Wrap the top left-hand corner of the swaddling blanket across your baby's body and tuck under their left arm.
Pull the bottom left-hand corner up over your little one's body, tucking it in over their left shoulder and arm.
Wrap the right corner around your baby's back, making sure their head and neck are left uncovered. If the material is not tucked in, roll your baby slightly to get them nestled into the swaddling blanket material.
Be sure to allow enough room for your baby to move their hips and knees freely, allowing movement in their hips.
Every baby is different, and some may prefer to have their arms free. If this sounds like your little one, simply tuck the blanket corners beneath their armpits instead of over their shoulders. If you notice your baby struggling against the swaddling blanket and attempting to escape, it might be time to move away from swaddling as it is not providing the comfort it once was. If you have a regular babysitter or caretaker, it is a good idea to make sure they are familiar with swaddling so your little one can rest comfortably when you are away.
Choosing the Best Blanket
You want your baby to feel safe, secure, and comfortable while snuggled up in their swaddling blanket. That's why it is important to swaddle your little one in only the best high-quality wholesale cotton swaddles. Choosing a high-quality swaddle made from only safe materials is a great way to improve your little one's sleep and keep them safe.
Organic Cotton Mart's wholesale organic cotton swaddle blankets will bring comfort and coziness to the fussiest little ones. Every muslin blanket is made from 100% certified cotton with no harmful additives or dyes. The light and breathable fabric is soft on the skin and ensures your baby is held snuggly without running the risk of overheating. Not only are they ideal for swaddling, the wholesale cotton swaddles also make perfect nursing blankets so you can get more from your purchase. In addition to their high quality, Organic Cotton Mart swaddling blankets come in different colors, patterns, and quantities, including single, double, and four-packs. The high-quality wholesale organic cotton swaddle blankets are made with parents in mind and are not only safe and comfortable but also affordable. With these wholesale swaddle blankets, you can rest easy knowing your baby is tucked in safe and warm in pure cotton luxury.
Why choose us?
Sustainable Products

Products build to last long with multiple usability lifecycle

Low Minimum Quantity

Get wholesale rates without having to order large quantities

Fast Shipping

Most of our orders are fulfilled within 1-2 business days
Perfect for dyeing
I've made several orders of swaddles. I custom dye them as gifts. We have a couple for our kids and they've held up well to repeated washing.
Gift Box
This is a perfect addition to my baby gift boxes for my company
Love these blankets
I use these blankets to Shibori tie-dye and they come out beautiful. The quality is so soft.
Organic Cotton Swaddle Blanket - Plain White - 47"x47"
Good quality blankets. excellent customer service.